Free Report by JulieAnn Engel
"Nature's Secret Weapon for Peak Performance".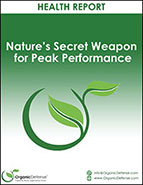 Simply enter your name and email to get instant access to your free Health Report.
---
About the Author

Bestselling author, JulieAnn Engel, has over twenty‐five years of experience in pharmaceuticals, medical marketing, and integrative health practices. She is well-versed in over ten therapeutic areas including bacterial and viral infections, pain management, diabetes, hypertension, dyslipidemia, gastrointestinal disorders, sleep agents, and radiation dermatitis.
JulieAnn's passion and desire is to bring her broad experience and knowledge in both traditional and cutting edge healing modalities to all who work with her. She specializes in helping people with chronic viral issues like herpes, hepatitis C, as well as individuals with cancer, MS, Parkinson's, chronic pain, and rheumatoid arthritis utilizing holistic options, and pulsed electromagnetic field therapy based on NASA research, to help rebalance bodies. The results are more energy, less pain, and the mitigation of various symptoms for an enhanced and sustainable quality of life.